The woman who is quite well known in Cameroonian (Presbyterian) Church and Primary Education Circles as MA MBIWAN was born ELIZABETH EFETI MBONGO on November 26th 1929 in Buea, to Thomas Isoke MBONGO and Sophie Namondo MATUTE. Very little about her early years was indicative of the influence she would have, and the impact she would make on the world around her, especially since her father passed away when she was just 16. Against all odds, she went on to obtain her Standard 6 Certificate, turned around and taught her own younger sisters - Mrs. Susan Efosi Mokeba and Late Mrs. Anne Mojoko Musonge, at the Basel Mission Girls' School, alongside veteran teachers like Mrs. Catherine Musoko and Mrs. Ngende, a fact which explains her "SISTER MISS" nickname.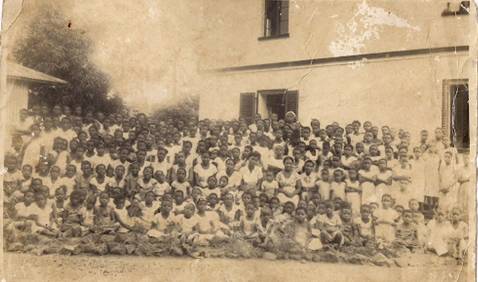 After she returned to Cameroon from Umuahia where she had gone for further studies, she met and married Mr. Ebai Mbiwan, (deceased), in 1957. His job as a Chartered Electrical Engineer working with SHELL-BP Petroleum Development Corporation took her all over the world, including OWERRI, NIGERIA – where her first daughter, Miss Ebob Mbiwan Tanyi was born, and the West Indian Islands of TRINIDAD & TOBAGO, where her only son, Acha Mbiwan, now of blessed memory, was born.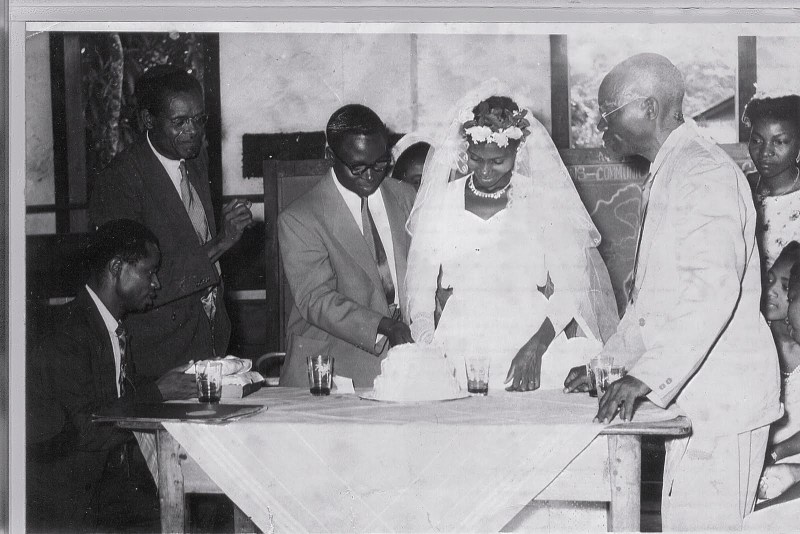 She returned to Cameroon and settled in what was known as Victoria then, (now Limbe), when her husband answered his country's call to return and serve as the Pioneer General Manager of POWERCAM, in 1962. All these years, she was a "stay-at-home-Mom", but certainly NOT one in the "traditional" sense of the term, because she was busier than most working mothers, both within and outside her home!
At home, she kept EVERYTHING spic and span, nurturing and raising 4 children "IN THE FEAR OF THE LORD", and also endowing every single one of them with OUTSTANDING and even AVANT GARDE academic ability and discipline AND instilling in them, EXEMPLARY MORAL principles which she herself MODELED.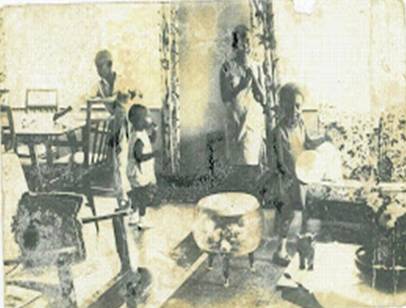 She baked, she sewed, she gardened, she read, she entertained and played hostess, etc … ALL of this and so much more, with ETRAORDINARY, AVANT GARDE prowess, and REMARKABLE poise and grace, even under very challenging circumstances. By the way, it is not just her 4 (biological) children who benefited from this thorough and well-rounded upbringing. Her own younger sisters, nieces, nephews, God children, in-laws and ALL who ever lived under her roof or spent as much as a few hours in her presence did, just as much!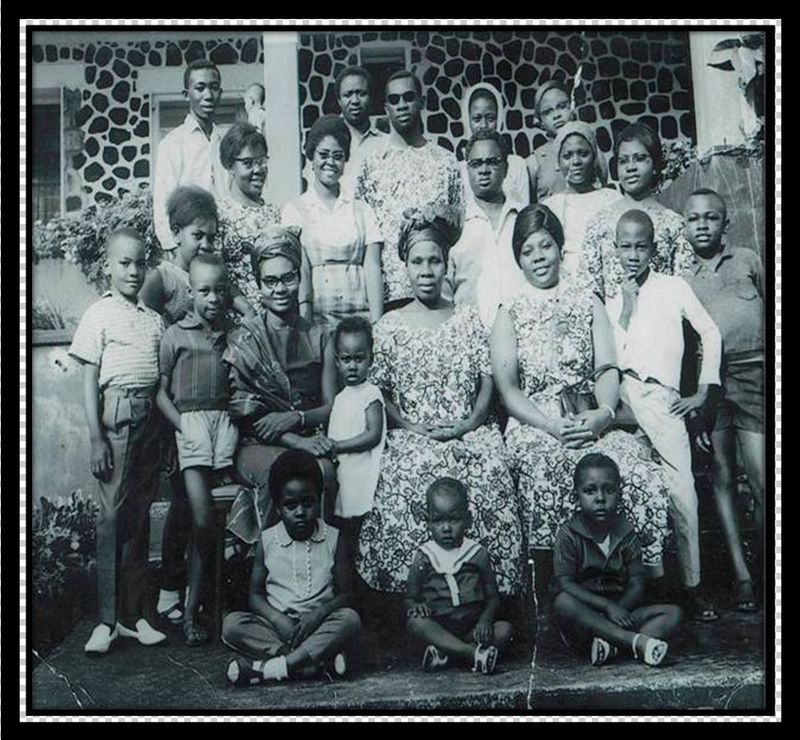 Outside the home, she was the the Sunday School Teacher, the CWF leader, the Choir Mistress – pretty much the Servant of God and Fellow man she was ALL her life!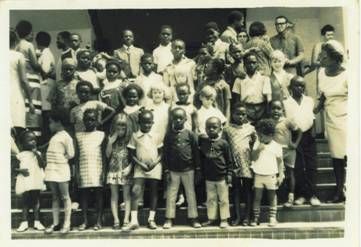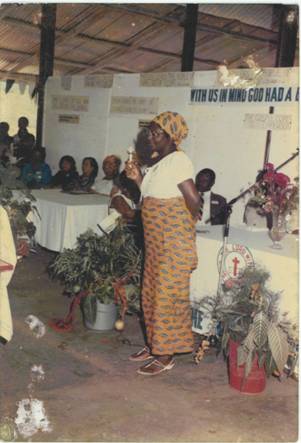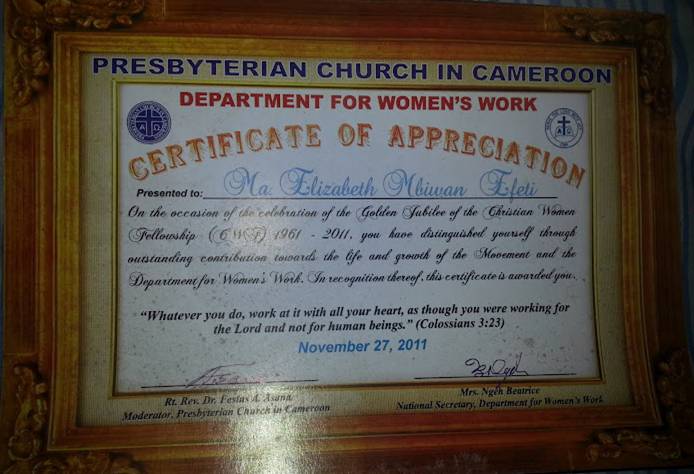 In 1969, Mr. & Mrs. Mbiwan both – with the 2 other daughters that had now been born to them, moved to Yaoundé. She continued with her CONSCIOUS choice to stay home and raise her children, BUT she continued to be DEEPLY involved in Church work, Leading the Sunday School Team of the very first Anglophone Church in Yaoundé, seeing it through its various phases from its Faculté de Théologie days, through its E.P.C Djoungolo days, through to its current P.C.C. Bastos format! Alongside her Church tasks and positions as Elder, CWF President and Sunday School Teacher, she was able to convince the Ministry of National Education to let her teach "RELIGIOUS KNOWLEDGE" in Yaoundé's only existing Government Bilingual Primary School. She later on became the school's headmistress – for over a decade, after which she requested a transfer to Limbe – following the passing of her only son. It is in this capacity – as an educator in the public/government sector that she has had the furthest impact, because by "running a tight ship" – insisting that the PROPER uniform be worn PROPERLY, teaching and modeling proper etiquette and good manners, setting the academic bar very high, and bringing a flawless work ethic and squeaky clean management style to her work, she was able to POSITIVELY IMPACT Generation after Generation of children, who may not have appreciated it then, but who cannot stop THANKING her now, and who attribute their current success and stability – at least in part, to the way she "did things".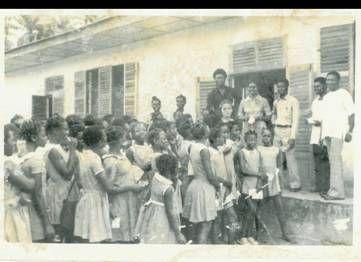 When she returned to Limbe in 1982, she taught English Literature at GHS Limbe, until 1985 when she retired. Her reputation preceded her because, as one of her now 42 year old former students told me just the other day, one of her GHS Form 2 Classmates told their class, prior to her arrival to deliver her first lesson, that they had all better be prepared to do some praying "alongside", to which one "fellow" said "NO WAY", only to find himself doing the "Hands Together; Eyes Closed Thing" before he knew what hit him!! As can be expected, in the 1990s and 2000s she spent a lot of her time welcoming and nurturing her grandchildren both in Cameroon and in the United States.
Needless to say, she went right back into her Church/CWF activities, all of which she carried out with UNWANING FERVOR, even after she moved to BUEA where she lived until her passing. In the last few years and months, her ailing health no longer allowed her to be "Up and About" like she used to be in her hey day, but she will ALWAYS be acknowledged and recognized by the MANY she has touched and blessed – by her example, by her selflessness, by her nurturing and through prayer, as A TREMENDOUSLY INSPIRING, DEVOTED, DEDICATED, COMMITED, GOD-FEARING WOMAN!
May her Dear Soul Rest in Perfect Peace!